Ficksburg to Sani (and back)
2nd & 3rd August 2003

Moteng Pass

2820 m

Oxbow Lodge

Khalo La Lithunya
3236 m



towards Mokhotlong

Mokhotlong to Sani



near to Sani


Sani Pass


Sani Top .... long way for a beer!
2874 m


... the morning after


reality reflected in 3 paintings


Sani Hotel


Winterton


the road home ... Fouriesburg
---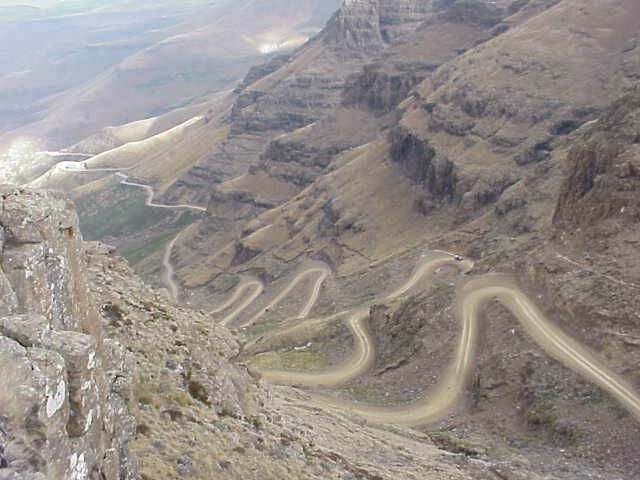 ... this we might have seen but for the dense mist
---
Ever been in a sail plane? As the variometer goes from "di .. di .. di" to
"diiiiiiiiiiiiiii", you know that your going up at over 10 metres per
second. It's a pumping adrenalin rush!
What made me think of this of was my first sight of Sani Pass. We had just
travelled through another slightly higher pass and the view of monster jets
of cloud shooting up the face of the mountain was truly marvellous. A lot
more than 10 metres per second! Much more.
Ours however was not to ride the air currents but the granite face of the
mountain. The prospect of descending into the freezing mist, clouds and
rain was every bit as much of an adrenalin high. In thirty five years
riding a motorcycle there can be little doubt that this was one of the most
exciting and dangerous moments.
Steep, wet, frozen, mud, strewn with large rocks, crossed by gullies.
Perhaps it was as well that we could not see the precipice just a meter
away. The mist was so dense that each of three motorcycles travelled in its
own little cocoon. Meeting up sometimes at a corner, to check that the
others were OK.
As if this were not a sufficient challenge, there was a deadline! At the
bottom of the 8km pass, the South African border post was waiting for us.
It would close at 4pm. The friendly bar keeper at Sani Top, reckoned half
an hour should be enough. It was, but only just.
I cannot explain why the thought did not occur to me, to put on water-proof
leggings. Probably because it wasn't really raining. Just all this mist.
Reaching the bottom my (only) pair of jeans were soaked. (The new Cordura
jacket though, worked just fine.) We arrived at the border post on the
stroke of four.
A further ten or so km's to the Sani Hotel was an uncomfortable ride. By
now we were cold and wet. Sitting beside a great log fire an hour later the
brief memory of this did not diminish the reflections on what had been an
astounding day's ride across the Roof of Africa.
At the highest point 3236 metres above sea level. (Must be more than 10,000
feet.) The G/S's engine definitely struggled to breath and a loss of power
was markedly evident. But hardly surprising.
The first climb to Moteng pass had been a really brilliant ride. Sweeping
curves strung together one after the other. Only close to the top did we
slow, out of concern for ice that could be seen thick on the side of
the road. A brief pause to consume a little "anti-freeze", and we were on
our way to Oxbow Lodge and the first beer. All had a chuckle when the
camera was given to one of the Basotho girls in the bar. She thought that
she would be photographed. Didn't understand that we wanted to be in the
picture.
The Road to Letseng is good and afforded a chance to spot half a dozen or
so, Bearded Vultures. Otherwise a very rare bird. And, uncommon in such
numbers.
Letseng to Mokhotlong is full of pot holes. These things are deep. You
don't want to hit too many of them. The ride slowed considerably and became
a game of snaking between these craters. This too was fun for a while.
Across the Roof of Africa, never dropping below much less than 2500 metres.
Reaching Mokhotlong we turned on to a dirt road, easier to ride than the
previous, which had by now lost the fun element. Suddenly we were passed
by two dirt bikes, travelling in the opposite direction at great speed.
Looked like they knew what they were doing. Along this stretch we stopped
to let out the beer and top up the "anti-freeze". And this pretty much
brings us to the point at which I began. With the sight of those clouds.
We returned home the following day, at the foot of these same mountains.
Travelling tar roads through some beautiful country side. And some amazing,
fast, bike riding roads. Not quite the same excitement as the previous day
but great stuff none-the-less.
Two days, 850 km's, and my 22 year old R80G/S never missed a beat!
If you're interested in a guided trip across the Roof of Africa, mail me.
Jim Lundberg
jim@junex.co.za
---